One genre of the arts I've only recently begun exploring is opera. Thus with not much experience to go on, I shall (quite belatedly) review my last two Royal Opera viewings together.
Segueing to a timeline of my limited encounters: My first opera ever was at about 10, watching a production of Carmen that came to Singapore. Thereafter I remained quite opera-free until a roomate in college, with a beautiful Soprano voice, reintroduced me to its amazing sounds. Later on I found myself strangely addicted to a piece on H
élè
ne Grimaud's Reflections album, with Anne Sofie von Otter on a couple of Schumann's Op. 12 Lieders; then an Angelina Gheorghiu Puccini album became my unlikely work music; and finally I decided I might be ready for the real thing. I tested the waters with Les Troyens (slightly too deep waters to try wading in..!!) from ROH's nosebleeds in 2012; Die Zauberfl
ö
te (a much better entry point -- hilarious and approachable) in 2013; La Rondine (slightly confusing and soporific, but a wonderful opportunity to catch Gheorghiu) in 2013; and finally Tosca last month, followed by the delightful YouTube telecast of La Traviata -- which, being a child of the interwebs, I will of course count.
The Tosca I saw was premiere night on May 13, with Oskana Dyka as Tosca and Roberta Alagna as Cavaradossi. I'd heard select Tosca arias from Gheorghiu's CD, so I knew I was in for a dramatic evening (i.e.:"Bang! Bang! Mario! Mario!") -- except that, as I sat there, it was so woefully and terribly undramatic. I thought it was just me and some miscalculated expectations, but soon enough Twitter confirmed Dyka's unfortunately dismal performance. (On this note -- I Love the '4D' experience ROH and its social media team have been providing me, where I can track the show both online and in real life, and catch nuggets of all the goodness I'm missing while in Singapore. Kudos to all there. Chris Shipman is the name I always see..! Well done you.) It's a shame I can't find the original tweets anymore (they were hilarious) but some commented that they were leaving the theatre.. and indeed, the stalls were actually emptying out by the last act.
Dyka is a marvelous singer (as far as I can tell) but her acting was just completely flat, almost to the point of being a concave depression. Tosca is already a character that is so easily complex, with anguished decisions and a litany of trauma throughout the piece, so it's such a surprise that this wasn't properly exploited. I don't speak Italian, but after stabbing Scarpia, she might as well have been singing "Whoopsy Daisies..!". Indeed, the FT concurs that "
she is no actress
". Alagna redeemed some of the night for me, especially since he sung Act 3 with an injured nose. I'm no singer but that sounds like it would be inconvenient. Still, his character simply isn't interesting enough to save the show.
Another small saving grace was the gorgeous set, an advantage which opera has over ballet. Without the need for wide open real estate for leaping, there're opportunities to sing while upstairs, downstairs, behind a fence, on a ladder, on a table... A cheap (or maybe not so cheap) thrill but one I rarely get to appreciate on the stage. There was a particularly gorgeous statue in Act 2 which was sadly invisible under the low lighting, and an impressively ominous solid night sky which hung over Act 3.
Other than acting and sets, I really can't comment on much else. I don't know nearly enough to distinguish a Vagner from a Puccini from a Mozart musically, and I'm sure the translations give a poor representation of the libretto. I do know I appreciated the sounds of my next operatic experience much better though -- in the free-to-all La Traviata.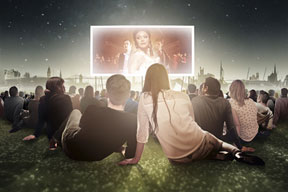 La Traviata was a revelation, made wonderfully available to all and sundry via ROH, BP, and YouTube on 20 May, with Ailyn Pérez, Stephen Costello, and Simon Keenylside. I'd actually only planned to sample a bit for the novelty of it, because it was obscenely early for me (3-6am..!!) on a work day, and because frankly I thought the story would be something I've seen before in the ballet version, and well, Moulin Rouge. But I became so unexpectedly involved in the story and the beautiful music that stay up all morning, and slack through my work day, I did.
One of the main reasons I enjoyed it was the simple technological nugget of subtitles. The thing I lament about opera in the theatre is, because I'm so unfamiliar with the story, I need to read a lot of the surtitles, completely missing the accompanying voice and expression as I do so. With the text superimposed on the screen instead, my operatic educational experience becomes focused, and I can spend real time examining everyone's acting (and, thanks again to technology, while nestled under the duvet).
And who I loved examining the most was Simon Keenlyside. My introduction to him was straightforward -- as Ms Yanowsky's husband. Being married, I essentially expected they would share a similar artistic dramaticism (such a shallow, but not totally off-base generalization), and truly, his roles move me as much as hers, even after discounting my bias factor. As the bumbling and sincere Papagano, he made the Zauberflöte I saw, and in Traviata, he stirred real disgust yet understanding in me for Papa Germont's selfish demands. But the whole performance was really made for me by Pérez -- I was simply dumbfounded during the Sempre Libera, and indeed felt compelled to 'volare' my soul and fly free. Her voice was just amazing, and the score commands such delicious vocal gymnastics.
My only complaint is one I must take up with Verdi -- that Violetta takes too damn long to die in Act 3, such that when she does, it's completely anti-climatic. I was somewhat expecting the build up to land me in tears but I think I burst out in laughter instead.
And with that, thank you ROH for making the arts so marvelously accessible. Hopefully with more such affordable viewings (I have my iPhone all ready to book Pl
á
cido Domingo for a mind-boggling
£
15 when booking opens today), my appreciation will blossom and more nuanced reviews will come in time!