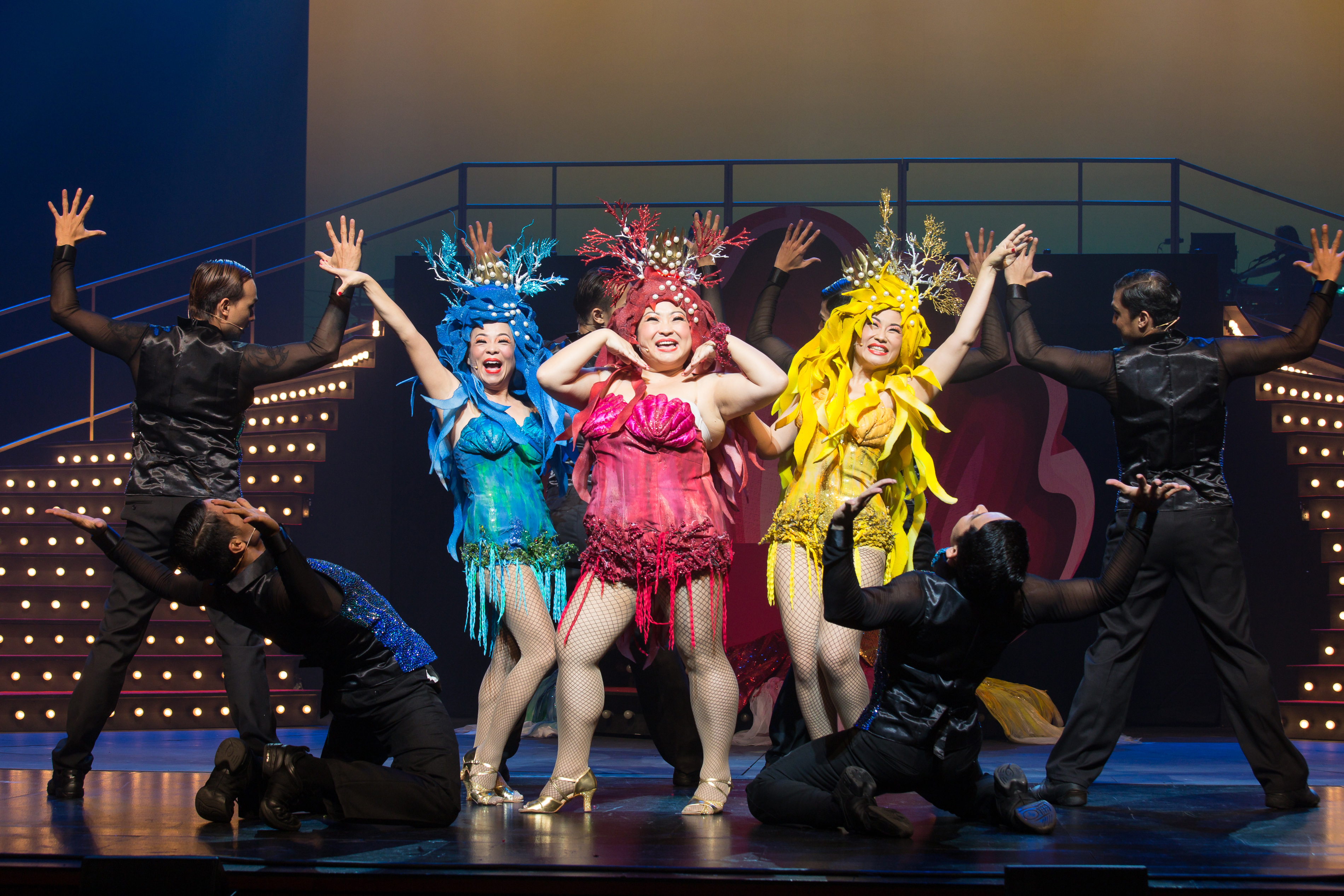 The Dim Sum Dollies: Pam Oei, Selena Tan, Denise Tan
To cap off a delightful year in the audience, I caught the Dim Sum Dollies, with their new show The History of Singapore Part 2: The Growing Up Years. The Dim Sum Dollies are a trio that began doing locally-themed comedy musicals in 2002, and have become a regular fixture of popular culture here. I'd never seen them before, and was happily surprised to find that their audience had grown from the small Esplanade Recital Studio back in 2002, to weeks of sold out shows on the main stage.
As the title suggests, this is another autobiographical sketch of our sunny island set in the sea. They run through a quick montage of what apparently happened in Part 1 -- going from the first founding of this 'Singa Pura' (or 'Lion City') by one Sang Nila Utama in 1299, to British colonisation in 1819, World War II, and all the way to our independence in 1965. Part 2 thus starts with the Dim Sum Dollies fawning over the newly elected party, and progresses in high octane energy, colours, singing and dancing, towards our most recent public debates.
Unfortunately, for a Singaporean, watching a show about Singapore, made by Singaporeans, I found the whole affair surprisingly inaccessible. I have to attribute it mostly to the fact that I simply didn't live through a lot of it. It would seem that many of the historical vignettes were written for an older crowd, who would get a lot of insider jokes that simply hadn't trickled down a generation. Sure, I know Changi airport opened in 1981, but no social studies text of mine really dwelled on the apparently disdainful reactions of neighbouring states at the time, which was what the humour decided to focus on. References to the many public mascots in the 70s and 80s espousing values such as productivity, cleanliness, personal savings, etc. were completely lost on me because most had disappeared from media by the time I was sentient. Hence I likewise spent that segment blinking in confusion as other members of the audience laughed heartily.
As history moved into more familiar territory however, I continued to find the references extremely random and obscure, and thus decided that much of the problem lay in the writing itself as well. Despite living through, and myself debating in class, about whether to open our first local casinos in the 2000s (for all the revenue but societal degeneration it might bring), I found the jokes to be simply un-amusing, and brought further down by meaningless song verses that sprang out of nowhere in vain attempts to rhyme.
If the random (or rather, chapalang) historical references weren't an obstacle enough, I ran up against a linguistic barrier as well. The Singlish spoken locally is an amazing mixture of just about every racial group's tongue -- primarily English, complemented with Mandarin, Malay, Tamil, Hokkien, etc. But while I speak it everyday, I unfortunately don't know enough of each language to catch the long phrases the Dollies would break into, and could see much of the audience leaning over to translate jokes to others as well.
The greatest barrier in understanding this piece however, was one of perspective. In such a short time, Singapore has done a profound number of things. Armed with heady ambition and a wicked efficiency, we've built things, built them again, spawned industries, risen ranks, about-faced from third world to first in under 50 years. The result: a country that has grown faster than our understanding of it. Thus, the narrative or perspective of public issues is so diverse such that when the Dollies talk of Lee Kuan Yew's successes, I truly don't know if they're being satirical or reverential. There are also so many different issues percolating, that when they talk about the protest at Hong Lim Park, I really don't know whether they're referring to the one about foreign talent, or government investment, or LGBT.
But I digress -- this has now turned into a commentary on Singapore, rather than one on art. Yet, like every society before and after us, is art not the means by which we discover who we are?